Atlas of plant and animal histology

Plant organs. Root.



PRIMARY ROOT. DICOT.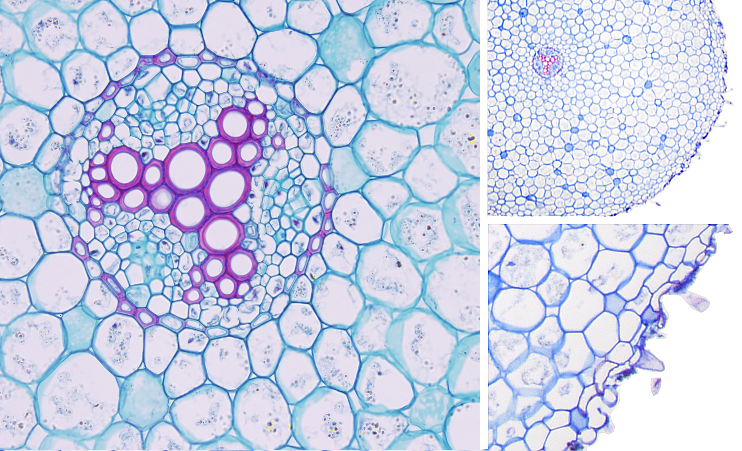 Organ: root, dicot, primary growth.
Species: buttercup (Rannunculus repens).
Technique: paraffin section. Staining: safranin-Alcian blue.
This picture shows a typical triarch root of a dicot plant. Epidermis, the outer layer, consists of a single layer of small cells with a very thin cuticle and a low number of radical hairs. A wide cortex is developed under the epidermis made up of storaging parenchyma cells that leave extracellular empty spaces. The water can circulate through this intercellular spaces. The vascular bundle is found in the center of the root, surrounded by the endodermis, which is characteristic of roots undergoing primary growth. Although it is not distinguished in this image, endodermis has the Casparian stripe. Endodermis cells of this root appear to be surrounded by a layer of suberin, but they are actually partially surrounded by only a band. The layer with parenchyma-like cells found under the endodermis is the pericycle, which preserves the meristematic capability since it is the origin of the lateral roots.
The three bundles of primary xylem are organized as spokes that extend from the center of the root, which makes the root lacks a medullary region. Primary xylem is exclusively compose of tracheae. The small diameter tracheae form the protoxylem (toward the outer part of the root), and the larger tracheae form the metaxylem (toward the outer part of the root). The primary phloem form groups of small cells between the primary xylema spokes. Different cell types of the primary phloem cannot be distinguished. The meristm originating the vascular bundle is found between the primary xylem and the primary phloem.